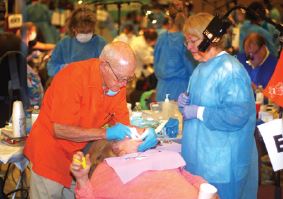 Before I interviewed the president and past president of the South Carolina Dental Association's Coastal District – Dr. Robbie Lake and Dr. Scott Cayouette, respectively – I tried to imagine what a bunch of dentists might talk about during those annual conventions. But soon enough I found out that there's a lot more doing than talking involved in this organization – more specifically, education and outreach for the betterment of everyone's smile.
Formed in 1869, the South Carolina Dental Association is a nonprofit organization and a chapter of the American Dental Association. The group consists of 1,944 dentists, about 77 percent of the dentists currently practicing in the state.
Regarding the outreach part of the SCDA's mission, Drs. Lake and Cayouette spoke of the Dental Access Days, also known as DAD, an annual program originated in 2009. The DAD program sends the dentists to different areas of South Carolina for two days to provide treatment to adult patients who otherwise might not be able to afford it. Different areas that have hosted the DAD program include Florence, Greenville, Columbia, Rock Hill and, of course, Charleston. Though the treatment is geared toward adults, the group often provides prevention services and education to children as well.
"It's fun and rewarding for the dentists and it's good for the patients," affirmed Dr. Cayouette. "Last year, over 1,500 patients came to our program in Rock Hill. We did extractions, fillings, crowns and root canals."
"I'm not a 5 a.m person, but you have to be during the DAD days," admitted Dr. Lake. "But the event energizes me. It's been one of the neatest parts of serving as president thus far."
Dr. Lake's presidency of the Coastal District – a term lasts for one year, beginning and ending with the spring convention – has been a great opportunity to get involved with other dentists in the state, he said, and embrace the chance to give back, something he learned the value of from his father, who also was a dentist.
"My dad was a dentist and I practiced with him," Dr. Lake said. "He impressed upon me the importance of organized dentistry. He even took me to a few meetings and conferences so I could meet a few of the 'big dogs' at that time."
Speaking of big dogs, the annual spring convention was held in Charleston this past April, and included 1,537 dentists and dental staff members. Dr. Cayouette was the chairperson of the 2015 event, which means organizing continuing education opportunities for the doctors and staff, as well as a large exhibition with different manufacturers and suppliers – yes, toothpaste brands included! There's also the popular silent auction fundraiser that helps raise money for dental student scholarships. Donated auction items have run the gamut from artwork to vacation packages.
"This was our first convention in Charleston since 2003," Dr. Cayouette remarked. "It's always a great experience."
I asked Dr. Lake whether he and Dr. Cayouette were friends before they passed the baton of presidency, so to speak, and he said they've become better friends.
"It's been great learning from these guys," he commented. "Scott and the others prepared me for this position. I knew it was time for me to step up and become involved. It's been interesting and challenging so far, and I'm glad I did it."
By Denise K. James