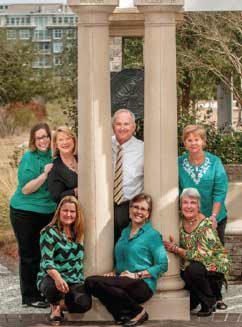 Some tortures are physical and some are mental, but the one that is both is dental – Ogden Nash
So wrote the celebrated poet laureate of light verse, with tongue firmly in cheek, most likely next to an aching molar.
Of course, there is more truth than fiction to Nash's ditty. A visit to the dentist's office was once looked upon by many people as something between unpleasant and unbearable.
That's not true any longer, and, in Mount Pleasant, a leading practitioner of gentle, pain-free dental care is Dr. Charles Anderson, whose practice on Wingo Way, in the shadow of the Ravenel Bridge, utilizes state-of-the-art equipment and techniques to put patients at ease, lessen their pain and give them optimal dental outcomes.
A Charleston native, Dr. Anderson earned his undergraduate degree at the University of South Carolina, a master's in Education from the Citadel and is a graduate of the Medical University of South Carolina College of Dental Medicine. He holds additional credentials in cosmetic dentistry and dental implants.
Dr. Anderson ventured East of the Cooper in 2001, when he shuttered his successful downtown practice and moved to Mount Pleasant. Today, he has served three generations of loyal patients. Loyalty also is an attribute of his staff, most of whom have been with Dr. Anderson for between 14 and 22 years.
The Anderson experience, business manager Kelly Vincent feels, "Starts at the front door. The personalization we give each of our patients sets us apart from other dental offices. We're very detail-oriented, and everyone from Dr. Anderson on down keeps us on the cutting edge with the tools and techniques of 21st-century dentistry."
Dr. Anderson himself, Vincent said, "takes a holistic approach to his practice. He doesn't just focus on a tooth that's causing pain, for example. He wants to put that issue in the context of the person in the chair. He wants to uncover precisely what's causing the problem so that he can address all its underlying issues."
The full title of Dr. Anderson's practice promises his commitment to "Family Dentistry and Aesthetic Restorative Dentistry." He handles most crowns, extractions and implants himself and maintains a network of specialists. If a specific problem requires specialized attention, he can refer a patient to practitioners he trusts.
To put patients at ease, Dr. Anderson offers oral sedation, nitrous oxide – also known as laughing gas – and virtual vision goggles so a patient can relax and watch a movie while the doctor works.
Dr. Anderson believes that a patient's smile can be life-changing. To that end, he offers bonding, veneers, teeth whitening and removable braces.
When he is out of the office, Dr. Anderson is a part-time instructor at the James B. Edwards College of Dental Medicine at MUSC. He's an avid golfer and recently renewed his interest in hunting. He regularly goes on medical missions to developing countries in Central and South America through the Dental Community Fellowship.
And he is a new grandfather. No one would ever know he is very proud of her – unless, of course, they saw the pictures he posts weekly around the office.
Once upon a time, whimsical poet Ogden Nash might have been right about how people feel about going to the dentist. He obviously never visited the office of Dr. Charles Anderson.
To learn more about Anderson Family & Aesthetic Restorative Dentistry, visit www.anderson-dentistry.com or call 843-884-2021.