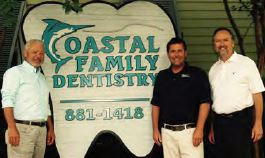 Coastal Family Dentistry has been serving the dental needs of patients in Mount Pleasant and the surrounding area since October 2007. The practice is made up of three dentists: Dr. Matthew Watson, Dr. Jim Sexton and Dr. Rick Clanton.
As a modern dental office, Coastal keeps up-to-date with the latest advances in dentistry.
"Instead of 'gooey' impression material, we use digital scanning. We also use digital X-rays, which expose patients to the lowest dose of radiation possible," Dr. Watson pointed out.
A multidisciplinary practice, Coastal Family also provides preventive care, cosmetic and restorative treatment, implants, endodontic treatments and even oral surgery. Other top specialists in the area work alongside the dentists when necessary, allowing Coastal Family to bring the most comprehensive care to patients.
The dentists and licensed staff at Coastal Family have many years of experience. Assisted by an "outstanding" front desk team, the practice is able to serve patients from all walks of life. All three dentists agreed that appreciating the patient is important, so they focus on developing a strong "family bond" with each.
"How do we know that patients are happy? We provide a survey that gives us feedback so we can better serve our community," remarked Dr. Watson.
He added: "Medical and dental treatment can be costly. Therefore we provide patients with options that are affordable. We also are in-network with most of the major dental insurances in our area."