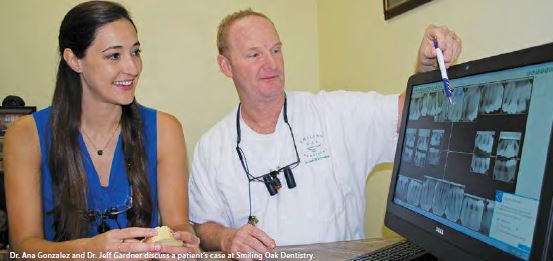 Patients at Smiling Oak Dentistry in Mount Pleasant started visiting Dr. Jeff Gardner in his new, 3,000-square-foot building in September 2014. The staff at the thriving dental practice has been upgraded as well, with the addition of another well-trained and highly motivated dentist.
Dr. Ana Gonzalez, who recently completed her Advanced Education in General Dentistry residency at the Medical University of South Carolina, joined Dr. Gardner at Smiling Oak in early July. The most notable difference for patients is that the practice is now open on Fridays. And, according to Dr. Gardner, he'll be in a better position to help people who count on him to ease their pain.
He explained: "In the past, we had to refer some procedures to other dentists. For instance, if a patient needed a root canal right away and my schedule was full, I could refer it to another dentist or wait a few days and do it myself. With Dr. Gonzalez in the practice, I can take care of it right away."
Dr. Gardner, who earned his dental degree at MUSC, is a strong proponent of continuing education, which is one reason he chose Dr. Gonzalez as his new associate.
"I feel very comfortable with my patients seeing her," Dr. Gardner commented. "She is a lifelong learner. I felt like she knew what she didn't know."
In addition to passing along his extensive knowledge of dentistry, Dr. Gardner hopes to teach Dr. Gonzalez about the business aspects of running a practice. He spent five years learning from his father, a dentist on James Island, before opening his own practice in Mount Pleasant.
"You don't find out about the business side in an academic setting, things such as hiring and firing, overhead, maintaining equipment and the financial part," Dr. Gardner said.
Dr. Gonzalez, who speaks both English and Spanish, earned her degree in Art History at the University of Miami and graduated from the University of Connecticut School of Dental Medicine.
"Ultimately, I found my calling in dentistry, which blended form and beauty with function and health, a delicate combination of art and science," she commented.
Dr. Gonzalez joined a team that Dr. Gardner considers to be one of the keys to his success. The group includes hygienists Elizabeth Barron Morrison and Rebecca Runion and dental assistants Maria Trombley-Puffer and Anna Inabinet, as well as Lisette Glennon and Sarah Hunton. They help Smiling Oak Dentistry provide an array of dental services, such as routine cleaning, gum treatment, fillings, pulling teeth, dental implants, dentures, crowns, bridges and cosmetic services including veneers and teeth whitening.
Outside of his dental practice, Dr. Gardner plays in an adult soccer league and spends time with his hobby of metal detecting. His wife, Roberta Zeigler Gardner, is an orthodontist in Mount Pleasant, and their daughters, Sophie and Lydia, are students at Wando High School.
By Brian Sherman