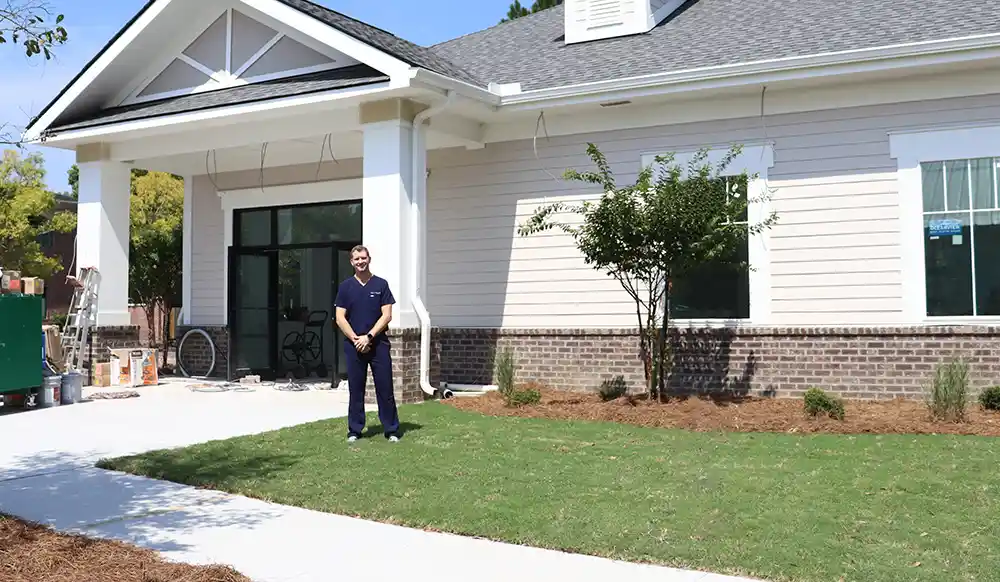 When entering any doctor's office, you don't want to wait 20 to 30 minutes after your scheduled appointment to be seen. Now, there could be legitimate reasons for such delays, but patients are losing their patience over what seems to be ever increasing wait times.
Quality service, efficient timing and thorough procedure is Dr. Cason Hund's current form of practice and his vision for the upcoming move into their brand-new office building. "I just set the schedule and our official opening of full functionality is on Oct. 23, 2023. We will finish the building later this month; following this will be inspections and after that is when we can move all our dental equipment in and be ready to service the public," Hund explained. The new office will be located inside Park West in Salterbeck Village.
Hund stresses diligence and consistency with your oral care. Cleanings should be scheduled every six months, teeth brushing is to be performed twice daily. And remember to floss daily. Why should you go in every six months for a checkup and cleaning? The doctor would be able to catch that small cavity and prevent it from turning into something major, like a root canal or a crown. Oral care is important and preventive maintenance is key.
The new office space is twice the size of Wando Family Dentistry's current space, adding a total of eight new dental chairs. Hund will have the capability to see more of his patients. "If someone chips a tooth, they don't want to have to wait a couple of days to come in. In the new office, I will have the capability to bring them in the same day and address their needs. That's important to my patients and me."
Hund's long-term plan is to bring another doctor onboard to run a highly efficient, smoothly flowing practice. "I want to have someone in there with me, to share the space, patients and workload, so everyone isn't relying solely on me. We will have more coverage. It will give us more balance. I'm not going anywhere. I'm thinking about my patients and their needs."
With efficiency being a primary focus for Hund, the increased space and opportunity for collaboration with other dentists will see his vision come to fruition. "I'm going to a larger space so my quality of care doesn't go down. I will be able to treat people effectively and efficiently, so they are not waiting and they are not in pain. They can be seen in a timely manner, being able to provide for my patients and being productive… I just don't want to waste anyone's time. Patience is a big focus. I don't want to have my patients come for an 8 a.m. appointment and they don't get seen until 8:30 a.m. That's not fair."
Hund has always emphasized patient care first. His office's attention to detail, friendly and knowledgeable staff and future brand-new office space really help patients to feel that genuine care and focus. Congratulations to Hund and his team on the next journey with their new office.
For more information, please visit wandofamilydentistry.com, or call 843-972-9700.
By Maurice J. Frazier