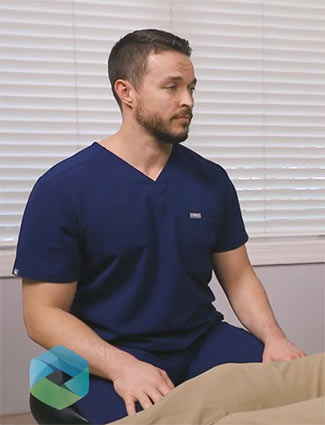 As an oral surgeon, Dr. Matthew Barefoot helps patients regain function and appearance through surgery on the mouth and jaws. Having a positive impact on his patients' lives is the best part of his work, he said.
Dr. Barefoot is a newcomer to Mount Pleasant but not to the South. Born and raised in North Carolina, he also lived in Alabama and Georgia before calling South Carolina home. He came to Mount Pleasant early this year when the opportunity arose to take over an existing oral surgery practice.
"Some patients come in because they can't smile or eat because their dentures are falling out of their mouth," he said.
After they see Dr. Barefoot, the difference is remarkable.
"They're like a new person, able to smile all the time and eat normally," he said.
In his training and practice, Dr. Barefoot has done everything from reconstruction on cleft palates and faces disfigured from bullet wounds to everyday work such as dental implants. He admitted that not everyone is excited to see an oral surgeon.
"If someone is coming to see an oral surgeon, they've got some kind of problem. It's fulfilling to me to provide solutions to those problems," he said, adding that he regularly hears patients say that the experience was positive.
"We strive to not only give excellent surgical care here but also excellent patient care and empathy. Our goal is to make an overall negative thing into a positive experience and treat the patients with good customer service," he explained.
Dr. Barefoot credits the members of his team, whom he described as "top-notch," for their role in the success of the practice.
"I couldn't do what I do without the people here with me. We have a great team in place. Someone can be the best in the world, but if the team surrounding them isn't made up of solid people, it's not going to matter much. The overall result is going to be diminished."
Barefoot Oral & Facial Surgery provides a wide range of dental and medical treatment options, including dental implants, bone grafting, ridge augmentation, sinus lift and jaw surgery. The practice also treats a variety of other issues such as TMJ disorders, sleep apnea, impacted wisdom teeth and facial injuries.
The variety in the work is what appealed to Dr. Barefoot in the first place.
"In high school, I wasn't sure exactly what I wanted to do, so I shadowed people and eventually found oral surgery. I felt like it was a good intermediary between dentistry and surgery because I could tailor things for what I wanted in terms of practice."
Dr. Barefoot earned his undergraduate degree at the University of North Carolina-Wilmington, received his doctorate in Dental Surgery from the University of North Carolina-Chapel Hill and attended medical school at the University of Alabama at Birmingham, where he also did his residency in Oral and Maxillofacial Surgery. He worked at a multidoctor practice in Savannah for five years before moving to Mount Pleasant to strike out on his own.
So how is life in the Lowcountry so far? He and his wife and son are loving it, he said.
"There's a lot going on here. We enjoy the beach and how pretty the area is."
Looks like he'll be calling South Carolina home for a while.
By Erin Danly