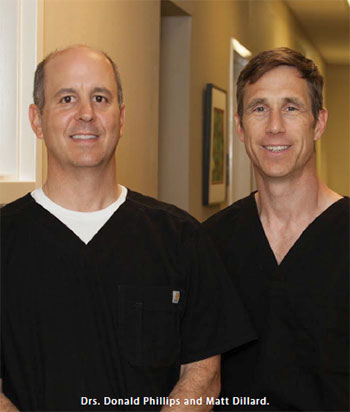 Dr. Matt Dillard
Dr. Donald Phillips
767 Johnnie Dodds Blvd.
Mount Pleasant, South Carolina
843-881-3111
www.lowcountryoralsurgery.com
2270 Ashley Crossing Drive, Suite 175
Charleston, South Carolina
843-410-5766
www.lowcountryoralsurgery.com
If you're looking for an oral surgeon, look no further than Dr. Matt Dillard and Dr. Donald Phillips of Oral & Maxillofacial Surgery of the Lowcountry.
They provide a wide range of services. Both Dr. Dillard and Dr. Phillips work with comprehensive surgical issues surrounding the mouth, including wisdom teeth, dental implants, bone grafting and corrective jaw surgery.
Dr. Phillips pointed out that he wishes more people knew about the amazing things they can do to replace missing teeth. Dental implants have come a long way in a relatively short amount of time, and new technologies such as their dental CT scanner have made the whole process more consistent in achieving excellent results.
Both dentists attended MUSC and then underwent training at acclaimed four-year residency programs in oral and maxillofacial surgery. After their training, they both entered the U.S. Navy.
"We followed very similar career paths and enjoyed our time serving in the Navy. We both ended up back in Charleston with our families," Dr. Dillard explained.
Originally from Spartanburg, Dr. Dillard began private practice in 2006 after returning to Charleston from active duty with the Navy. When Dr. Phillips was assigned to the naval clinic in Charleston a couple years ago, he and Dr. Dillard discussed the possibility of working together long-term.
"For me it was a unique opportunity to work with someone I knew and trusted. Donald has tremendous experience, strong ethics and takes a lot of pride in what he does," Dr. Dillard said. "Both of us came from smaller towns and had fathers who were dentists and understand the importance of treating the patient as a person. We have different personalities but our professional philosophies match."
Dr. Phillips joined the practice full-time last summer, allowing them to open up their newest office in Mount Pleasant. They see patients from all over the Lowcountry in their three offices.
Dr. Phillips earned his bachelor of science at Wofford College but realized after visiting many dental practices that he wanted to be a part of the dental field because "dentists are able to do a lot of things to improve peoples lives." After completing dental school at MUSC, he went on to train at the Medical College of Virginia in oral and maxillofacial surgery.
When asked what they believe makes their practice different from others around the Lowcountry, Dr. Phillips said, "I wouldn't necessarily say different because what we're striving to do is set a standard for what we think oral surgery practices should be. We practice under the auspices of excellent care and communication with patients and referring dentists."
The main thing that Dr. Dillard and Dr. Phillips want their patients to experience is personalized care and outstanding results. They want everyone who comes through their door to have a great experience.
"We try to make the process as comfortable as possible, from paperwork and insurance to the procedures themselves. We have a great staff who are passionate about what they do," said Dr. Dillard. "For us, it's all about doing what's best for our patients.
By Alyssa Zapinski