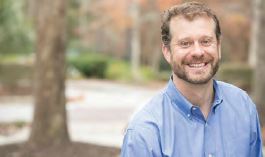 It should be no surprise that orthodontist Dr. Travis Nash had braces, as did his three children and his wife. A family full of great smiles is just one of the perks of the job.
At his practice, Nash Orthodontics, Dr. Nash helps patients from all over the Charleston area get great smiles using the latest in orthodontic care, such as clear braces and Invisalign. Braces have gotten a lot better since he had them, he said. "Technology is better. Having braces is not as uncomfortable as it used to be," he pointed out.
Originally from Arkansas, Dr. Nash fell in love with the coast while serving the Navy as an orthodontist in Norfolk, Virginia. He and his family moved south to Mount Pleasant, where he opened his practice and quickly got involved with the community. Nash Orthodontics sponsors local teams and school programs, and Dr. Nash and his family are active in their church.
Dr. Nash attended dental school at the University of Missouri-Kansas City. He chose orthodontics to help people, he said.
"People come in and they don't have a great smile; they hide their face. After treatment, they've got a lot of selfconfidence, their outlook on themselves has changed and so has how other people see them."
He and his team do great work – they were voted Best Orthodontist in Mount Pleasant by Mount Pleasant Magazine readers in 2014 – and they have a great time doing it.
"We're like a big old family. Coming to work is fun," Dr. Nash said.
By Erin Danly