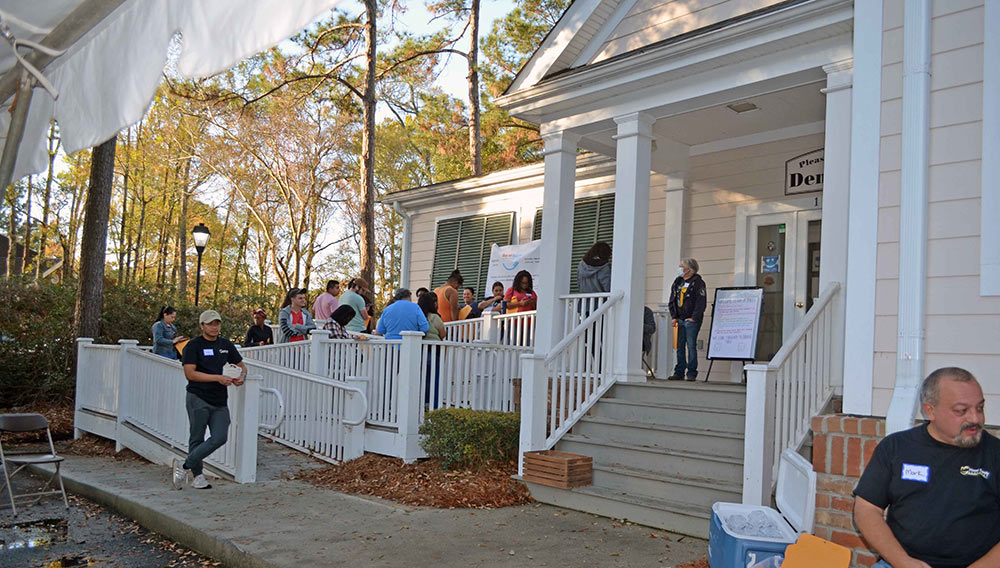 The sign outside the offices of Pleasant Family Dentistry read "Caring For Our Community Remains Our Top Priority." For practice founders Dr. Richard Jacowski and Dr. Gregory Johnson, caring for the Mount Pleasant community isn't just advertising; it's a core value of their business. They aren't just talking the talk. On Saturday, March 19th, the office hosted "Day of Smiles," an annual event providing access to care for patients who have difficulty affording treatment. Staff and volunteers from other practices served close to 90 patients and provided over $40,000 worth of free dental services. Patients were seen on a first-come, first-served basis.
"When we started doing this 10 years ago, we knew it would be a rewarding experience." Dr. Johnson said. "We get to experience the patient's gratitude and immense satisfaction first-hand. It doesn't get any better than that! We are glad to have a wonderful team that is so gracious of their time for the needs of others."
Pleasant Family Dentistry, also called PFD, has been a part of the community for 33 years. In 2000, the practice moved from where it started on Houston Northcutt to off the Isle of Palms connector. The offices were designed following their guiding principle to "put the comfort of the patient first." The space is welcoming and feels more like a spa than a dental clinic. Comforts such as TVs, blankets, massage chairs and Chapstick can help relax even the most anxious dental patients.
According to Marketing Director Holly Sapolich, "We go above and beyond to make you feel comfortable."
With a well-rounded and experienced team of professionals on-staff, PFD is able to offer a wide-range of services, so patients don't have to be referred elsewhere. Those services include general dentistry, extractions, CEREC ® same-day crowns, root canals, implants, pediatric dentistry, TMJ treatment and sleep apnea treatment. They also specialize in cosmetic dentistry including veneers, Invisalign, teeth whitening, Botox and fillers. At PDF, they want everyone to have happy and healthy smiles. Fear or embarrassment should never be a reason not to achieve great oral health.
The office is accepting new patients and has an amazing referral rewards program. Recent monthly referral giveaways included a six-burner grill, an Apple watch and a 65-inch TV! For clients who do not have insurance, the office created their own in-house savings plan called the PFD Premier Plan that covers cleanings, exams, fluoride, X-rays and other discounts.
According to Office Manager Heather Rourk, who has been with PFD for 17 years, "I've worked in the dental community for 25 years and the biggest difference that PFD has impressed upon me is their unwavering commitment to the community that supports them. We are always looking for ways to have an impact on our staff, our patients and our community. Anyone that visits us can sense that about us and that is why people keep coming back."
For more information, call 843-881-8881, or visit PleasantFamilyDentistry.com. You can follow them on Facebook or check out their Instagram page @pdfsmiles
By Sherry Whiting