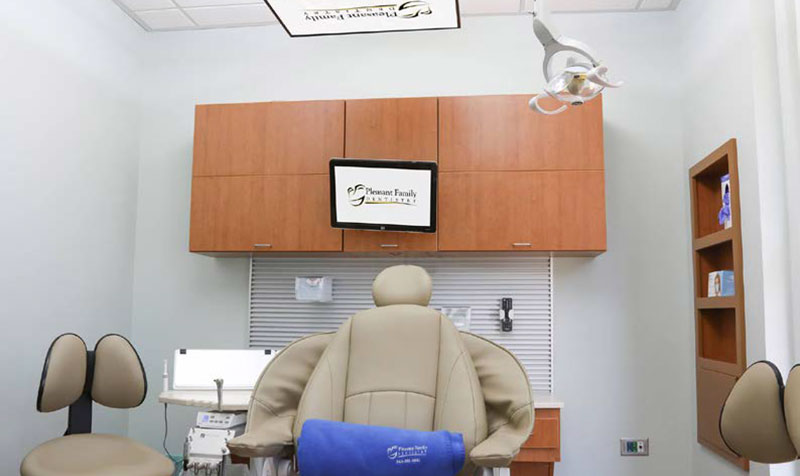 Fear of going to the dentist's office comes in many forms. An estimated 75% of the population has some anxiety about their dental appointments. Of that number, as many as 20% will avoid going altogether because of their anxiety. Perhaps you find yourself in that group.
Pleasant Family Dentistry of Mount Pleasant has always been aware of dental anxiety and worked proactively to put their patients at ease. According to Marketing Director Holly Sapolich, "From the moment they call the office to the time they leave, patients remain our priority."
If you struggle with dental anxiety, consider making that first call and schedule a visit to meet the dentist and staff with a consultation, rather than a full inchair examination. Honestly communicate your fears and concerns as well as your overall health conditions. Pinpoint if you can, what is most unnerving about coming to the dentist. Is it the needles, the drill sounds, the equipment, the chemical smells, the fear of choking or perhaps trust issues with someone working so closely on you?
Pleasant Family Dentistry is dedicated to creating the best atmosphere and most positive experience for each person. Sapolich continued, "We strive to provide a calm, comforting environment, and we explain dental procedures to ensure patients know what to expect, so there are no surprises. We even offer a comfort menu that includes blankets, Chapstick and massage chairs. We can dim the lights or provide sunglasses. Furthermore, we pride ourselves on our bedside manner."
When COVID struck, normal dental-anxiety levels accelerated. Appointments were postponed or canceled because of the additional high-risk nature of the health visit. Pleasant Family Dentistry complied with all the new guidelines issued by the CDC and World Health Organization. However, after a year of dealing with the pandemic, studies indicate that dentists have become infected significantly below the rates for other health care professionals on the front lines. As a result, practices that adhere to the strict health and sanitation protocols are safe for patients and fully open for business once more.
Pleasant Family Dentistry is one such practice. After initially reducing its staff and patient load to emergency care only, it is now fully operational and welcoming new patients as well as returning ones. "We are now open and back to regular business hours. We continue to take the temperatures of both our patients and our staff. We also have a screening process, promote social distancing and follow all the guidelines," explained Sapolich.
Office Manager Heather Rourk is also optimistic. "We are confident we can offer a safe and pleasant dental experience to all ages and family members. We owe a lot of the success of our practice to our loyal patients and our hardworking staff. Without them, we would not be able to give back to the community like we do in special programs such as Dentistry from the Heart."
For more information, call 843-654-4679 or visit pleasantfamilydentistry.com.
By Janet Perrigo