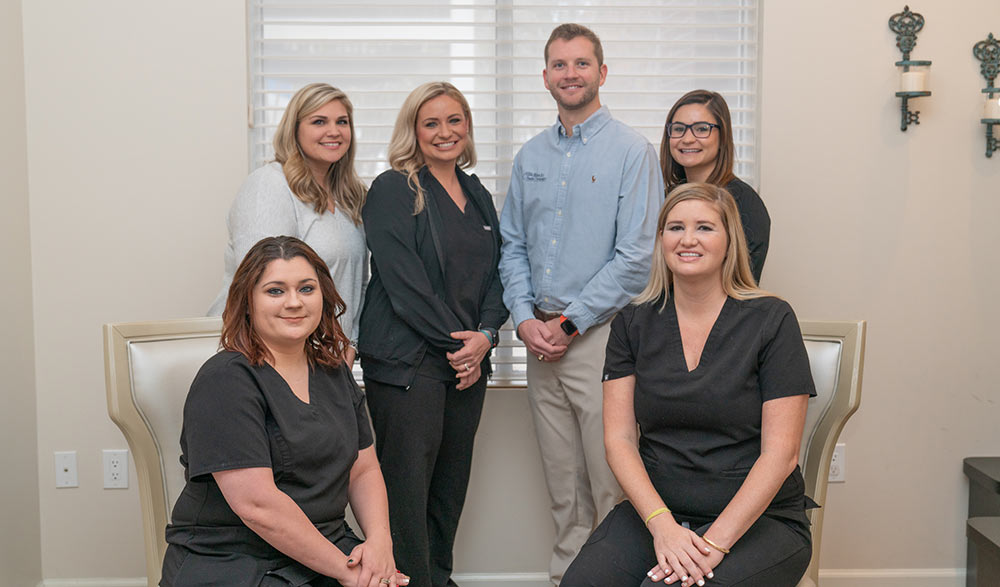 There's something special about a person who returns home to the Lowcountry to launch their career. Maybe it's how they bring with them a dedication to the location and its people; maybe it's that baked-in southern charm. Whatever the case, Dr. Cason T. Hund of Wando Family Dentistry offers a healthy heap of homegrown passion to his patients, along with an array of services to keep their smiles healthy and beautiful.
Born on Hilton Head Island, Dr. Hund grew up in James Island and is a proud Porter-Gaud graduate. After completing his undergrad years at Clemson, he returned to the Lowcountry to attend the MUSC College of Dental Medicine and has been practicing in town ever since.
"I wanted to be back in the Charleston area to be able to serve my local community," he said. "My family is mostly still in the area. I like getting to see them on a regular basis and take care of their dental needs. It's nice to be home for good."
He and his wife Jessica, a family physician at MUSC Health Daniel Island, live in Mount Pleasant with their growing family. "My family makes me the most proud," he said. "I'm so glad to be a father of three. We have a 4-year-old son, a 2-year-old-son and a brand-new daughter."
Dr. Hund volunteers at East Cooper Community Outreach—a nonprofit organization that provides free dental care to underserved communities— and has also worked with Our Lady of Mercy Free Clinic, Dental Access, Give Kids a Smile and The Charleston Free Clinic.
Perhaps it is that community-mindedness paired with a Lowcountry touch that makes Dr. Hund's practice feel so special. Perhaps it's also the fact that he considers his staff and patients an extension of his family, treating them exactly as he'd treat his own. Maybe it's the excellence of their comprehensive services.
"We are a family dental practice," said Dr. Hund. "Our services range from routine hygiene visits to fillings, crowns, bridges and implant restorations. If there are deeper needs, we utilize the wonderful community of dental specialists in the area."
Dr. Hund's team is always ready to help patients navigate the confusing world of dental insurance, too. "There are varying levels of coverage," he noted. "It can be frustrating dealing with dental insurance companies, so we like to take the stress out of the dental finances by verifying your coverage before your appointment. Nobody likes to get a bill they aren't expecting." While he pointed out most of their services are covered, it's better to know before you go, and that's what he'd want for his family.
Above all, Dr. Hund and his team want to make you smile. "The smile is one of the first things you notice about people," he said. "It can help give you a good sense of self when you have a happy, healthy smile. The mouth is the window to the body. Healthy smiles are happy smiles."
To learn more, visit wandofamilydentistry.com, or call 843-972-9700.
By Leah Rhyne