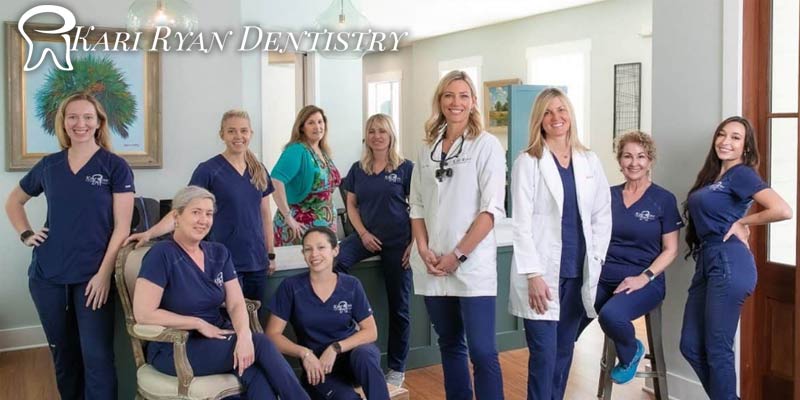 Visiting a dentist can be an intimidating experience, but the team at Kari Ryan Dentistry provides a calming, welcoming office atmosphere. They happily take new clients on a tour where they offer tea, coffee, comfy furniture and soothing lighting to put everyone right at ease. At this office, comfort and expertise are key.
After graduating from Michigan State University, Dr. Ryan and her husband relocated for the Lowcountry's warmer climate. She graduated from the Medical University of South Carolina, where she received her Doctor of Dental Medicine and further completed a prosthodontic fellowship at the MUSC Oral and Maxillofacial Clinic. At the clinic, she focused on treating medically compromised patients and worked with dentures, crowns, bridges and implant restorations. A member of the Charleston Dental Society, South Carolina Dental Association and American Dental Association, Dr. Ryan gives back to her community through mission trips and dental clinics.
"Continuing education is very important to me, as it is the way to stay up-to-date with materials, techniques and technology." Dr. Ryan said. "I regularly attend classes and study clubs to stay relevant and collaborate with colleagues. I am also extremely proud of my team, which consists of very caring and highly trained ladies who care about clinical excellence and a great patient experience."
Part of that team is South Carolinian Dr. Kristi Dillard, who grew up in Murrells Inlet and graduated from the College of Charleston. She not only graduated from the MUSC College of Dental Medicine, she also met her husband Dr. Matt Dillard there. To continue her studies, Dr. Dillard completed an Advanced Education in General Dentistry program at MUSC and currently attends continuing education courses.
Adding to the highly educated dentists and tranquil atmosphere, the team at Kari Ryan dentistry have made it a priority to use top-of-the-line equipment to ensure their patients are offered the best and safest options.
Dr. Ryan relayed, "I would like to highlight our state-of-the art technology, which helps provide excellent and efficient care to our patients. We can take cone beam x-rays, which offer the lowest radiation and best diagnostics available."
The impressive résumés and favorable amenities pair perfectly with perhaps the most important piece of the puzzle at Kari Ryan Dentistry: the passion for the patients.
"It is a true joy and privilege to help a person feel better and more confident about their smile, which, in turn, can have a positive impact on all aspects of their life." Dr. Ryan concluded. "I enjoy the opportunity to potentially change someone's life."
When Dr. Ryan isn't fine-tuning smiles, she enjoys participating in outdoor activities with her husband and two children. She enjoys yoga, running, swimming, tennis and volleyball. For relaxation, she tends her garden and cooks delicious meals for her family.
For more information, visit MtPleasantDentist.com, or call 843-881-1638.
By Eileen Casey