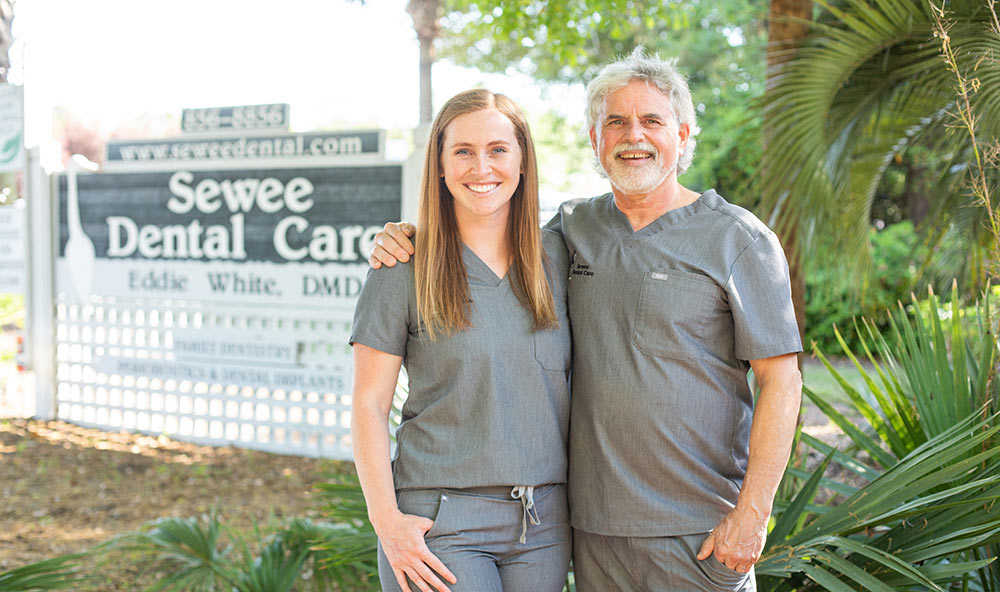 "No Nonsense Dentistry" is the mission and motto of Sewee Dental Care, where Dr. Edward White Jr., also known as Eddie, has been a staple in the community for years. He opened Sewee Dental Care in 1998 when he instinctively took a chance on the idea of future growth on Highway 17. Sewee Dental Care is located in the heart of North Mount Pleasant, at 2928 Highway 17 North. "As committed to his community as he is to his practice, Dr. White also owns the well-known local music venue and production company Awendaw Green, which connects local and regional artists to the music community in the Lowcountry."
Family and tradition matter greatly to the entire White family. Dr. Eddie followed in his father's footsteps — a dentist who was also one of the first endodontists in South Carolina. His wife, Laurie, is a dental hygienist, and his daughter, Ivy, is graduating from dental school at MUSC. Dr. White himself attended Furman University and completed his degree at the MUSC College of Dental Medicine in 1986.
Dr. Ivy White will be transitioning into the role as Sewee Dental Care's partnering dentist in the summer of 2021. She revealed, "I have learned from the best and have been training for this new role since the age of 18."
She has experienced the importance of running a patient-centered dental business through her role as office manager for the last five years and has known many of the patients since she was a child. Patients and personal relationships matter to her, and she is dedicated to continuing the White family tradition of investing in those who trust her with their dental care needs.
What sets Sewee Dental Care apart? Both doctors relayed that they "are passionate about maintaining a natural smile and making sure the patient understands every aspect of their dental needs." This team believes that patients should take ownership of their individual treatment and understand all options. They take extreme pride in practicing common sense dentistry and educating patients, empowering them to participate in their oral health decisions. They firmly believe that if you know more about your health, you can make better decisions for yourself.
This dynamic duo also prides themselves on really knowing their patients personally. The minute you walk through the door of Sewee Dental Care, you are part of the family. Many patients followed Dr. White when he moved his practice from West Ashley to Mount Pleasant in 1998. "If you are a patient at Sewee Dental Care, you are more than a patient on the schedule," they agreed.
Dr. White is excited to introduce his daughter as a doctor to the Mount Pleasant community. He said, "She is more than ready — she was made for this, and she is really good. This is an exciting time for Sewee Dental Care and for Mount Pleasant."
As a team and as a family, the Whites will continue to infuse their traditions of relationships, education, patient care and no-nonsense dentistry in the Lowcountry.
For more information on Sewee Dental Care, go to seweedental.com, or call 843-856-8856.